The Gospel Tabernacle Church logo brings together the heart and soul of our church.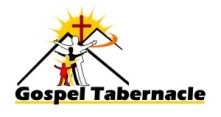 Yellow Sun – Represents the Father God who watches over us all.
Red Cross – Represents our Lord and Saviour Jesus Christ and His blood He shed on the Cross for our Salvation.
Orange Wind circling the mountains – Represents the Holy Spirit and His encompassing ministry across the whole earth.
Mountains Peaks – A mountain image that is seen at the entrance of our Church representing a Christian life with mountain top experiences.
Four Worshippers – Our church consist of all peoples of all races – Red and Yellow, Black and White – they are precious in His sight.
Church Name – Gospel Tabernacle – A Good News Gathering Place!
What's in the Gospel Tabernacle Church logo? What's in a name? Good news! TL Osborn said that if you went to church and did not leave feeling good… then you had not heard the good news! For the Gospel is the Good News that Jesus came to save, heal and free men from their sins! At Gospel Tabernacle our focus is on the GOOD NEWS!  
Romans 1:16 (KJV) For I am not ashamed of the gospel of Christ: for it is the power of God unto salvation to every one that believeth; to the Jew first, and also to the Greek.
Romans 1:16 (AMPLIFIED) For I am not ashamed of the Gospel (good news) of Christ, for it is God's power working unto salvation [for deliverance from eternal death] to everyone who believes with a personal trust and a confident surrender and firm reliance, to the Jew first and also to the Greek,
Romans 1:16 (GOD'S WORD) I'm not ashamed of the Good News. It is God's power to save everyone who believes, Jews first and Greeks as well.